---

In Memoriam:
Gary Lewis Faust
November 22, 1959 - February 17, 2015

from the Austin American-Statesman, 2/19/2015

Gary Faust


Longtime Austinite Gary Faust, a former band director who led the Akins High marching band to the state finals in 2006, died on Tuesday of heart failure. He was 55 years old.
Faust, born Nov. 22, 1959, was educated in Austin's schools and served as a drum major at Crockett High School, then home to one of the best band programs in Texas, under legendary band director Paula Crider. That inspired him to pursue a career teaching music. He earned his bachelor's degree in 1983 from the University of Texas and was a member of the Longhorn Band.
He began his career as the assistant band director at Austin's Anderson High School. Next, he served as graduate assistant director of bands at Northwestern State University in Louisiana, where he received his master's degree in music. He then came home to Austin, serving as head band director at Dobie Middle School. Over time, he would serve as head director at three area high schools: Reagan, Travis and Akins and assistant director at Georgetown High.
He was particularly proud of the number of his former students who majored in music at great music schools throughout the nation. Many of those students earned full scholarships.
He received his Ph.D. in education administration from UT. While working as a full-time student, he served as the head band director at Travis, maintaining a 4.0 grade point average at the same time he led Travis to its first-ever Area Marching Contest and first UIL Sweepstakes in more than 20 years.
His next move was to Akins High School, where he led the Eagle Band to the State Marching Band Championship finals in 2006 and earned 10 consecutive UIL Sweepstakes awards. He also inspired hundreds of students to pursue a college education, and that work was featured in the 2013 PBS documentary "Marching to Nowhere."
In 2006, Faust promised his students that if they qualified for the state championship that he would get a tattoo on his leg. Here it is.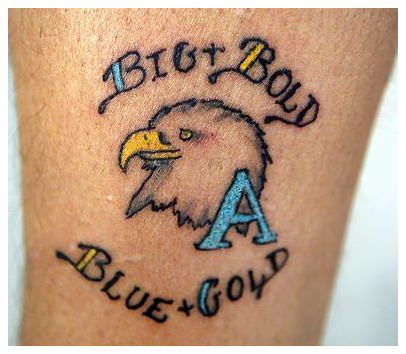 With his accomplishments, Gary could have worked anywhere, but he was drawn to communities with fewer resources where kids faced steeper challenges.
"I guess I just ended up at places where people think the kids can't succeed," Gary told PBS. "And that's just never been a part of me. I told them we're going do this. We're going do it right. We're going to do our best, and we're going try and be the best."
He is survived by his mother Geraldine Faust; sister Terri Johnson; brother-in-law Tracy Johnson; nephews Hunter Johnson, Tome Johnson and Scooter Faust; niece Brandi Faust; his dear cousins Ray, Danny and Royle Faust and many others; and his children Brice, Grayson and Tessa.
A celebration of his life is scheduled for Sunday, March 29, at 4 p.m. at the AISD Performing Arts Center in Mueller, 1500 Barbara Jordan Blvd. Published in the Austin American-Statesman on 2/19/2015.
---